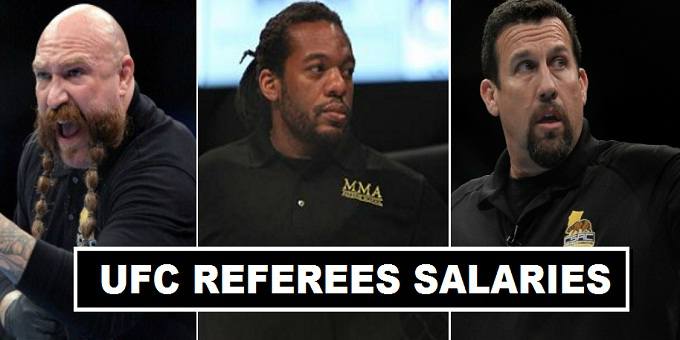 Ultimate Fighting Championship is one of the successful mixed martial arts sports network. This sports gain huge popularity in past 10 years among the people. There are professional referees selected on merit base who judge the fighters during the fight. The referees professionally trained for the sports. They well aware with the rules and regulations of the MMA.
Herb Dean, John McCarthy, and Marc Goddard are one of the most professional referees we have seen during the UFC matches they have been officials for the high profile UFC fights during the main card. In 2016, an article published in sports economic magazine according to them in a normal match (UFC) official earn $300. In the main card high profile fight UFC referee earn ($2,000) maximum salary.
UFC Referees Salaries 2018(Revealed)

| | | | |
| --- | --- | --- | --- |
| Referees | Per Match Fees | PPV's Fight Fees | Annual Earnings |
| Professional Referee | $1000 | $5,000 | $250,000 |
| Entry Level Referees  | $250 | N/A | $30,000 |
| Female Referees | $250 | $2,500 (Rare) | $60,000 |
There are main card fights and preliminary card fight take place in main pay per view at the end of the month. Some fights schedule in weekend. Referees paid double when they selected for the high profile title fight in a main card. According to sources a referee earn maximum salary upto ($5,000) when he is doing as official duty in title fight.
How Much Women Referee In UFC Earn Per Fight:
Professional referees mostly selected for the main card fights. For (under card and preliminary card) fights entry level referees selected and earn maximum earn ($250 – $550) during those matches. Kim Winslow made history after becoming the first women referee to UFC match. According to sources she get $400 per match salary. She mostly selected for the matches of Strikeforce and World Extreme Cagefighting.
Highest Paid MMA & UFC Referees 2017

| | | | |
| --- | --- | --- | --- |
| Referees | Main Card Match Fees | High Profile Fight Fees | Annual Earnings |
| Herb Dean | $1,000 | $7,000 | $550,000 |
| John McCarthy | $1,000 | $5,000 | $350,000 |
| Marc Goddard | $700 | $3,500 | $270,000 |
| Josh Rosenthal | $700 | $3,500 | $270,000 |
| Mario Yamasaki | $700 | $3,500 | $270,000 |
| Kim Winslow (In-active) | $250 | $1,000 | $50,000 |