Fifa World Cup 2018 coming soon just few months left before the mega event will kickoff. The event will continue from 14 June and the final will be played on 15 July. We have some great football matches for 32 days live all the way from Russia next year. Top 32 best teams from 6 confederations qualified for the Fifa World Cup 2018 only one can lift the trophy in the Finals.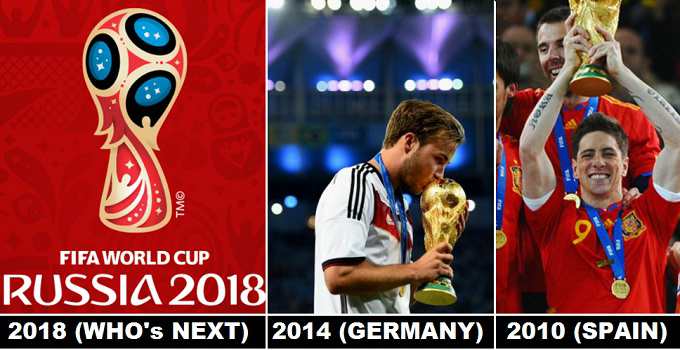 Fifa World Cup 2018 Opening Ceremony:
Last year Brazil can not create a good impact on football fans with their world cup opening ceremony. Hopefully Russia will setup a good performance of stars and celebrities during their 2018 Fifa World Cup opening Ceremony.
Fifa World Cup 2018 TV Coverage Rights:
Not every one can visit the hosting nation where the world cup played, so People prefer to watch matches on their television and stay updated after listing commentary on the radio channels. BBC and ITV will show the matches in United Kingdom while United States people can watch matches on channels (Fox, Telemundo,Fox Sports 1,Fox Sports 2, and NBC Universo). Match TV officially broadcast the 2018 world cup matches in Russia. Further channels details you will get here soon.
Fifa World Cup 2018 Tickets Price:
Tickets are available on the official site of Fifa where you can buy. The highly demanding nations for the world cup 2018 tickets are (Mexico, Argentina, Brazil, China, USA, Colombia, Germany and England) allot of fans are looking to book their tickets and looking travel Russia next summer in June to see the mega football event. The opening match tickets were available in US$550. The tickets sub divided into four categories. The price final match tickets were higher.
Fifa World Cup 2018 Official Song:
Currently there is no information about the Fifa world cup 2018 official song who will going to sing. The previous world cup 2014 song is sing by (Jennifer Lopez, Pitbull, and Claudia Leitte). Shakira get huge fame worldwide after singing songs for the world cup 2014 and 2010.
Fifa World Cup 2018 Stadiums:
There are 12 stadiums and 11 different cities of Russia where all matches of World Cup 2018 will played. The biggest stadium in Russia (Luzhniki Stadium) where 81,000 People at one time can see the match live. The other stadiums include (Otkrytiye Arena, Krestovsky Stadium, Kaliningrad Stadium, Nizhny Novgorod Stadium, Central Stadium and Fisht Olympic Stadium). Further details about the stadium will be updated here.
Fifa World Cup 2018 Qualified Teams:
Russia already qualified as they are the hosts of fifa world cup next year. The other teams who so far qualified for the world cup 2018 are (Brazil, Iran, Japan, Saudi Arabia, Mexico, Belgium and South Korea). Still there are 24 teams places left who are playing their qualifiers round in next one month we have our 24 other qualified teams for Fifa world cup 2018 from (Africa, Europe, Asia and America).
Fifa World Cup 2018 Match Schedule:
There will be 64 total matches to be played in the world cup, in group stages there are 48 matches schedule for the teams. After group stages in knockout round there are 16 matches. After that quarter finals will be played among the 8 teams and all 4 winners teams of quarter finals will be play the semi final matches. Third place match will be played among the losing teams in semi's.
Fifa World Cup 2018 Groups:
All those teams who qualified for the world cup 2018, will be drawn into groups of 4 each. There are 32 teams in tournament which total 8 groups made in each group there are 4 teams. The top two teams of each groups will play in the knockout rounds of world cup.
Fifa World Cup 2018 Prize Money:
Each team who will qualified and participate in Fifa World Cup 2018 will received ($2.5 million) as of participation fees. Last year the prize money for the world cup 2014 winning team is suggested ($35 million) according to some sources closer to football the prize money for the Fifa World Cup 2018 winners will be ($50 million) and it will 30% extra if the team stays unbeaten and won the world cup. The team who lost the final finished as runner-ups will received ($40 Million). Still there are no official announcement made about the prize money of the world cup but once we get some updates about it will be updated here.
Fifa World Cup 2018 Team Squads:
So far not all teams qualified for the world cup in Russia. Once the teams groups were made a month before the world cup official team squads were announced by teams.