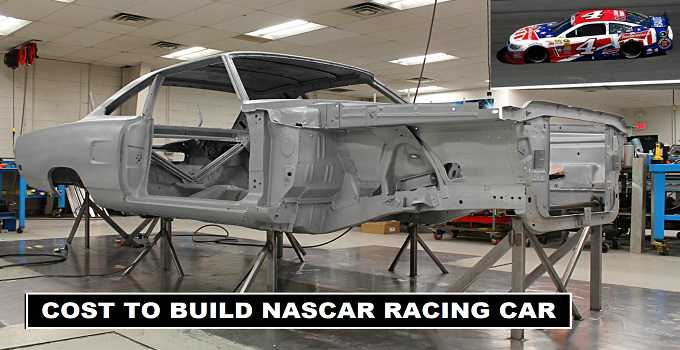 How much does a NASCAR car cost you, exactly the amount will be in millions. After listening the voice of engine you can imagine what parts you required to built-up racing car. It depends on the person who wants to buy the racing what type of engine you want in car. Top teams in NASCAR sprint cup racing spend big budget money to bring the best engine of high quality. If you want to get your car in racing season you need to follow the rules that were made by authorities of NASCAR which are too much strict about (size and specifications of a legal racing engine).
Normal NASCAR car cost you less money as compared to racing. Because they were not made for racing, its mostly made for the people who show interest to buy and want to run on the streets. All information taken from trusted sources of Motorsports.
NASCAR Car Cost In 2018 (Engine & Tires Prices)

| | | |
| --- | --- | --- |
| Category | Sprint Cup NASCAR Car Cost | Normal NASCAR Car Cost |
| Built-up Price | $3 million | $300,000 |
| Engine Parts Cost | $250,000 | $50,000 |
| Cost of Tires | $500 | $70-$100 |
| Chassis or Body | $170,000 | $70,000 |
| Accident Cost (Damaging) | $100,000 – $300,000 | $10,000 |
Size of Engine & Cost:


The engine must 358 cubic inches (5,867 cubic centimeters) which is helpful to limit the amount of horsepower that the engine can produce. When the cars on tracks such as (Daytona International Speedway & Talladega Superspeedway)  the engines of cars used to be fitted with restrictor plate to cut airflow between engine to put a cap on racing speeds. Best racing teams of NASCAR build their engine from (scratch). Which takes more then 100 hours to build the engine. Some sources claimed that engine built-up for($50,000 – $150,000) cost.
Cost of Tires:

Now, lets talk about tires which played important role on the racing track, a single tire can cause retirement from the race or cause major accident. All top teams try their best to bring the best tires to their cars to get good results. The best thing about NASCAR tires they have tread, which provides them a stronger grip on track. Size of tires bigger in width than regular tires, about 11 inches (28 centimeters). Each of them is constructed by hand from layers and layers of rubberized material reinforced by rubber-coated steel cables called beads. In NASCAR racing a tire maximum cost up to $450 or $500 it depends on making of tire. Each team of NASCAR allowed four types of tires for the race
Cost of Chassis or Body:

There is only seat fit in the body of NASCAR for driver. Its constructed in such way that it can hold the actual size of engine. In a normal car you see there are speed meter, gas gauge, brakes and doors. But in NASCAR you will found nothing like that you need to jump from the window to sit on the drivers seat. With all the facilities like (anti-lock brakes, air conditioning, fuel injection, and front-wheel drive) it will cost $70,000. But if the expensive parts a pre-CoT NASCAR Sprint Cup race car cost $170,000.
The prime sponsorship logo objected on hood of the car, on the front of the driver's and pit crew's uniforms. Secondary sponsorship that were highlight at lower part of the hood, some of the side panels brings ($2-$6 million) sponsors. Now days its pretty difficult to get a good primary sponsor. A primary sponsor pay closer ($500,000) a race. Increase in prices of gas brings NASCAR racing teams to gas companies to get sponsor deal to adjust gas budget.
How Much Accident Cost (Cash & Repair):


Depends on accident how badly it damages car during a race. If the engine blows during the race or bumpers bumped on the track, you need to have good backup money that cost you to repair the car. A report claimed that mostly cars repaired between $150,000 – $300,000 after each race. The rebuilding cost increase as you have to pay a good money to mechanics to build the car parts and make possible changes to bring the car back on track.
NASCAR Sponsor Budget:
Who pays the cost of the NASCAR race cars, cars with super-engineered beauty gets checks from the sponsors who's names were mention on the body of the car. There are more then 500 companies who are sponsoring NASCARS. The popular brands who sponsored the car racing teams are (Budweiser, Craftsman Tools, M&Ms, Office Depot and Tylenol). A long term sponsorship deal with prime sponsor brings ($20 and $25 million) in account of sprint cup racing teams.