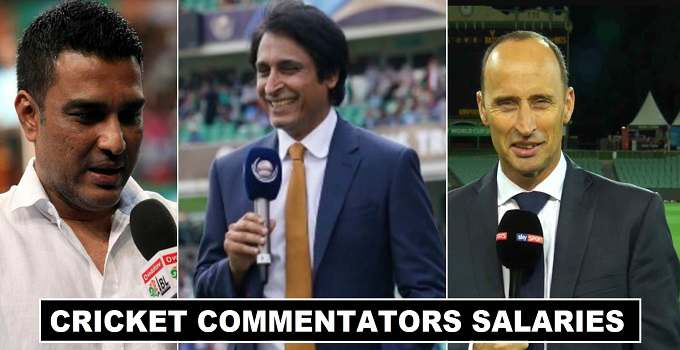 Cricket Commentators who provide each and every detail about the players performance during the match. Did commentator get salary base contracts from sports channels. Countries where cricket is popular sports channel hires experts for the commentary job on big match fees. Almost more then 50 series and a major international cricket event held each. Our sources closer to cricket provide some details and estimated earnings that commentators earn from a match or series.
If we talk about the highest paid commentators in cricket, its non other then Indian commentators they earn double money. Mostly when they selected for big series like Pakistan, Australia, England, Sri Lanka, and South Africa. Rs 25 lacks to 40 lacks paid to the commentators and also other services hotel remuneration and ticket.  Sanjay Manjrekar made almost (Rs 36 lacks) per series which brings his name among highest paid. Manjrekar made this big money in India vs South Africa test series.
India commentators get paid almost ($2,500) per match day fees.
Full series earnings of Indian commentators is upto $55,000 such as (Sanjay Manjrekar, Sunil Gavaskar, and Anil Kumble).
Earnings at the end of the year increased for commentators when they do commentary job in domestic leagues such as (IPL, PSL, BPL, Big Bash League T20)
A huge difference in the ODI Match fees, T20 Match Fees and Test Match fees
According to sources $1,500 is a match fees for commentator in world.
Commentators team selected for ICC Tournament matches earn 10% extra salaries then they have on their contracts.
Commentators salaries in India big that made them highest paid in cricket commentary.
Include all salaries commentators earn from all tournaments, series, domestic league estimated upto ($350k – $1.01 million).
Cricket Commentators Salaries 2017 (Revealed)

| | | | | |
| --- | --- | --- | --- | --- |
| Commentators | Match Day Fees | Per Series Fees | Yearly Salary | Broadcasters |
| Sanjay Manjrekar | $2,500 | $55,810 | $1 million | ESPN Star Sports |
| Harsha Bhogle | $2,500 | $50,000 | $1 million | ESPN Star Sports & ABC |
| Sunil Gavaskar | $2,500 | $50,000 | $1 million | ESPN Star Sports |
| Anil Kumble | $2,500 | $50,000 | $1 million | ESPN Star Sports |
| Rahul Dravid | $2,500 | $50,000 | $1 million | ESPN Star Sports |
| Sourav Ganguly | $2,500 | $50,000 | $1 million | ESPN Star Sports |
| Ravi Shastri | $2,500 | $50,000 | $1 million | ESPN Star Sports, BCCI |
| Ian Chappell | $2,500 | $40,000 | $700,000 | ESPN Star Sports, Nine Network |
| Shane Warne | $2,000 |  $58,000 | $1 million | BCCI, Sky Sports, Nine Network, ESPN Star Sports |
| Waseem Akram | $1,500 | $35,000 | $600,000 | ESPN Star Sports |
| Nasser Hussain | £3,200 | £42,000 | £670,000 | Sky Sports |
| Mark Nicholas | £3,200 | £42,000 | £670,000 | Sky Sports |
| Geoffrey Boycott | £3,200 | £42,000 | £670,000 | Sky Sports |
| Michael Vaughan | £3,200 | £42,000 | £670,000 | Sky Sports |
| Mike Atherton | £3,200 | £42,000 | £670,000 | Sky Sports |
| Ian Botham | £3,200 | £42,000 | £670,000 | Sky Sports |
| Alan Wilkins | £3,200 | £42,000 | £670,000 | Sky Sports |
| Michael Slater | $2,500 | $30,000 | $560,000 | Nine Network |
| Michael Holding | $2,000 | $30,000 | $560,000 | Nine Network |
| David Lloyd | £3,500 | £42,000 | £670,000 | Sky Sports |
| Athar Ali Khan | $1,000 | $15,000 | $350,000 | Independent Television |
| Mark Richardson | $1,500 | $30,000 | $560,000 | Sky Sport (New Zealand) |
| Shaun Pollock | $1,500 | $30,000 | $400,000 | SuperSport |
| Rameez Raja | $2,200 | $45,000 | $700,000 | TEN Sports |
| Waqar Younis | $1,500 | $45,000 | $700,000 | TEN Sports |
| Amir Sohail  | $1,500 | $45,000 | $700,000 | TEN Sports |
| Russel Arnold | $1,500 | $45,000 | $700,000 | TEN Sports |
| Barry Richards | $2,000 | $45,000 | $700,000 | TEN Sports |
| Mike Haysman | $1,000 | $45,000 | $700,000 | TEN Sports |
| Pommie Mbangwa | $1,000 | $40,000 | $500,000 | TEN Sports |
| Ian Bishop | $2,000 | $52,000 | $900,000 | Sky Sports |