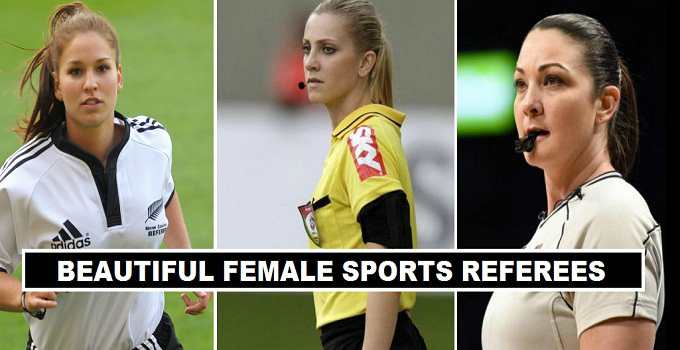 Female referees are getting popular in both male and female sports. In recent years some sports allowed female to do get officials job in international match events. There is big number of models who are turning themselves for the sports referees jobs. They are working under the referees development program to get fully trained.
#1: Fernanda Colombo Uliana: Football: (Brazil)


Fernanda Colombo Uliana she is a professional assistant referee in international football matches and she performed her duties in Brazilian football league. Uliana most searched Brazil personality after she made her appearance in Brazilian football league.
#2: Proletina Velichkova: Snooker: (Bulgaria)


Proletina Velichkova also made her professional snooker match referee debut in 2012 from (Bulgaria Open). She is selected for match official job between (Matthew Stevens v Allan Taylor). Her aim is to get better skills as snooker referee to get more tournaments matches.
#3: Aurélie Sarà Bollier: Football: (Switzerland)


Aurélie Sarà Bollier is a professional referee in Switzerland, she is a full time referee in (Swiss amateur leagues) and hopeful to make her career prominent. She gets huge fan following due to her pretty looks.
#4: Elena Tambini: Football: (Italy)


Elena Tambani is a model and full time football referees minor football leagues in Italy. She gets attention while doing her job as official in football match.
#5: Desislava Bozhilova: Snooker: (Bulgaria)


She made her professional debut in 2012 at Bulgaria Open from the match between (Robbie Williams vs Daniel Wells). Her ambition in snooker to become best referee and get selected for as many matches as possible to get good experience.
#6: Brigitte Tyler : Rugby: (New Zealand)


Brigitte Tyler is a professional female rugby referee she is part of New Zealand rugby league match officials team. She is selected for the Women's Sevens Exhibition Game and become first female to be part of HBSC World Men's Sevens Series match referees team.
#7: Charyana Gamballe Correia: MMA: (Brazil)


Charyana Gamballe Correia is a pro referee in mixed martial arts. Her fan following increased due to her beauty and courage in ring. There is not big pays for the female refs in MMA but she is working because of her passion towards the sports.
#8: Lauren Holtkamp : Basketball: (United States)


Lauren Holtkamp is a professional basketball referee, she is third female to become the (full-time NBA referee). Before turning pro she completes her job five years in (NBA Development League seasons). In 2014-15 NBA season she become official full time National Basketball League referee.
#9: Lucy Oliver: Football: (England)


Lucy Oliver is a professional referee for the (women football league) in United Kingdom. She is married to the premier league official (Michael Oliver) in 2015.
#10: Amy Perrett: Rugby: (Australia)


Amy Perrett become first official to be part of the super rugby league match. She recently upgraded to the Full time rugby referee job and also officer at referee development program in New South Wales rugby. She is among most promising referees.
#11: Maira Americano: Football: (Italy)


Maira Americano she is among one of the beautiful linesman in football. She made appearance in couple of league football matches. She gets a big fan following due to her style.
#12: Josefin Dahlbäck: Tennis: (Sweden)


Josefin Dahlbäck is a line-judge during the tennis game. She is famous for her beautiful looks and in past 2 years her fan following in tennis increase. She did not make to the higher level of tennis tournament but her aim is to become top official in tennis.
#13: Hollie Davidson: Rugby: (Scotland)


Hollie Davidson is from Scotland and she is the first ever professional rugby referee from country. She also did match official job in the domestic men's rugby match in Scotland.
#14: Belinda Sleeman: Rugby: (New Zealand)


Belinda Sleeman is professional rugby female referee she made history after making debut in the (NRL rugby league) in New Zealand. She is among dominated female referees of Rugby.
#15: Kennadi Brink: Wrestling: (United States):

Recently (WWE) given a chance to females to become full time member of the match officials team. In NXT (Kennadi Brink) made her debut as first full-time female referee in WWE wrestling. Brink made headlines in wrestling sports after selected as official for WWE matches.
#15: Sian-Massey-Ellis: Football: (England)


Sian-Massey-Ellis is the full time lines-man. Who made appearance in the Premier League matches. She is rise to fame as match official from (UEFA Women's Champions League. Later become official in FIFA Women's World Cup qualification rounds).
#15: Katalin Kulcsár: Football: (Hungary)


She made her professional debut as match referee from the match between (Malta and Bosnia Herzegovina).The biggest achievement for her is to get selected for the 2015 FIFA Women's World Cup officials. In 2016, she main official in the final of 2016 UEFA Women's Champions League.