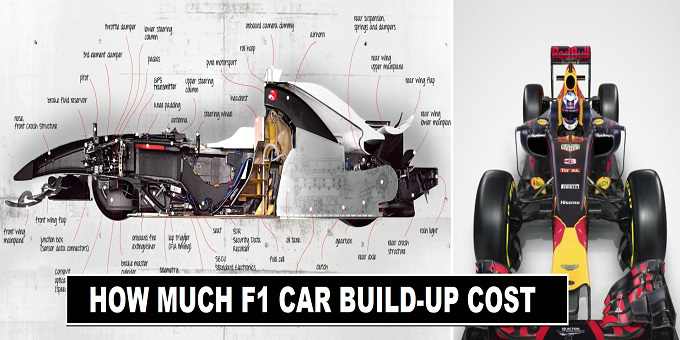 How much money you need to build a Formula 1 car, a sports journal published a report in 2014, claimed that $7.7 million required to build a f1 car. FIA made number of changes in a season about the car designs. Build-up cost of car is increased with new season. The first thing you should keep in your mind that bigger F1 teams such as (Ferrari, Mercedes Red Bull and McLaren) spend budget almost $400 million a year to develop the best cars for the season which include the cost of staff members, mechanics, engineers and drivers. But not all the team budget is same some of them allocate the budget from ($250 million – $350 million) each year.
Formula 1 Car Cost In 2018 (Engine & Chassis Expenses)

| | |
| --- | --- |
| Category | Cost |
| Engine Unit | $7.7 million $10 million |
| Carbon fibre monocoque | $650,000 – $1.2 million |
| Front wing & nose cone | $300,000 |
| Rear wing & DRS overtaking aid | $80,000 – $150,000 |
| Steering wheel | $70,000 |
| Fuel tank plus assembly | $140,000 |
| Hydraulics | $200,000 |
| Gearbox | $600,000 |
| Cooling system | $220,000 |
| Transmission | $250,000 |
| Tires (Set of tires) Wet, Dry, & Normal | $1714 |
| Accident Damage Cost  | $500,000 |
| Total Basic Cost | $15.52 million |
Cost of Engine:
Cars of F1 built with powerful engine that can produce good speed on track. Engine is one of the most expensive part of the F1 racing car. It is built for the price ($10.5 million) up to the demands of the racing team managers and owners. Engines were manage in such way that can adjust in cars. F1 teams like Mercedes, Ferrari, and McLaren who demand engine's from Japanese company like Honda will definitely get help to reduce the cost of engine.
Cost of Front wing & Rear wing:
When the car picks acceleration on the track, wings play the important role in the balancing during the turns. Almost $300,000 required to build a better front wing and nose cone, some teams use less budget front wings which may cost them in ($150,000). The rear wings will cost almost ($150,000) maximum if they are upgraded from a better makers of Motorsports.
Cost of Steering wheel:
The actual control of the car is being control through (Steering wheel). Special steering wheels designed F1 cars. Cost of the steering wheel is maximum ($50,000-$100,000).
Cost of Fuel tank:
The average formula one car used almost ($500,000) petrol during a season. Almost 200,000 litres in a single season during practice session and racing session. Fuel tank cost ($140,000) and some maintenance cost required for the it because a single mistake cause major fire damage during the car.
Cost of Gearbox:
The gearbox is another important component in the formula one cars. The cars mostly use highly sophisticated semi-automatic, seamless shift gearboxes. The gearbox cost maximum to a F1 team almost ($440,000) but some teams upgrade them before the season began to get better performance which cost them extra amount ($160,000).
Cost of The Tires:
There are three types of tires were used during the race (Dry, Wet and Normal). Report published about the f1 tires that set of tires cost ($1715). The maximum limit of the tires used on the tracks were upto (20,000 miles).
Accident Damage Cost:
A single accident cause major damage to the car on track. Some reports came in 2015 and 2014 about the damaging of formula one cars the reports claimed a car can cost maximum damage upto ($550,000). Which include rear wings, front wings, chassis and some parts of engines.
Cost of Carbon fibre monocoque:
The structure of body of f1 car (carbon fibre monocoque) cost ($650,000). Few racing teams go for normal body structure instead of expensive one.