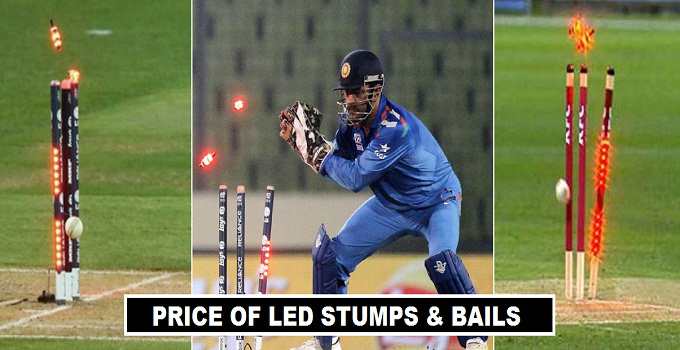 In Cricket matches or tournaments you will the lightning stumps once the ball hit to the stumps there is red light appear on the bails and wickets. The question how much it cost to buy LED stumps and bails. In 2015 a sports economic site published report on it. According to that ($40,000) is the actual price of these stumps. Which used (Big Bash T20 League, ICC World T20, Indian Premier League and Other top cricket events).
The innovation of these LED stumps was convenience by Australian mechanical industrial designer well known (Bronte EcKermann). South Australian manufactured the (Zing International) which is called Zing System. Its first tried in the cricket club game in (Adelaide). The first tournament where these wooden light stamps and bails used is (Big Bash League) in Australia 2012 Season.
LED Stumps & Bails Price in (Australia, Pakistan, India)

| | | |
| --- | --- | --- |
| Countries | Currency (Price of Led Stumps) | Tournaments |
| Australia | AU$ 40,000 | Big Bash League |
| England | £23,472 | Natwest T20 |
| India | RS (25 lakh) | Indian Premier League |
| Pakistan | RS (33 lakh) | Pakistan Super League |
If you are thinking that LED Stumps are cheaper in price , then you wrong the best quality LED Stumps we seen in the cricket matches are expensive. It cost $45,000 to $50,000. Previously players who performed well in the match they took ball and stumps with them but after introduction of LED Stumps bails no one can take them home as its restricted by the match officials. There are some cheap price LED stumps & bails are also in market. If you are buying LED stumps & bails in Australia you have to pay ($40,000) and In India you need to pay almost (RS 25 Lakh) to buy the led stumps. In Pakistan the price of LED stumps and bails is (RS 33 Lakh).
LED Stumps Benefits:
Earlier its very difficult for Umpires to take decision about the completely dislodged of bail during the match but now once the balls touch the stumps the red light start beeping which will let umpires take decision quickly and fair in the match. Low voltage batteries used in the both stumps and bails. When keeper touches the bails ball with his hands bail detects and both spigots are dislodged from the stumps. Mostly it helps umpire to take decision fair when the LED Stumps flash red lights during the close stumping or run outs.
ICC Tournaments & Leagues LED Stumps:
Almost in each match LED Stumps become main choice for the match officials. In ICC World T20 matches you will see the LED stumps from first match to final. Recently Indian Premier League and Pakistan Super League start using these LED stumps to create a better impact on fair decision during the matches.