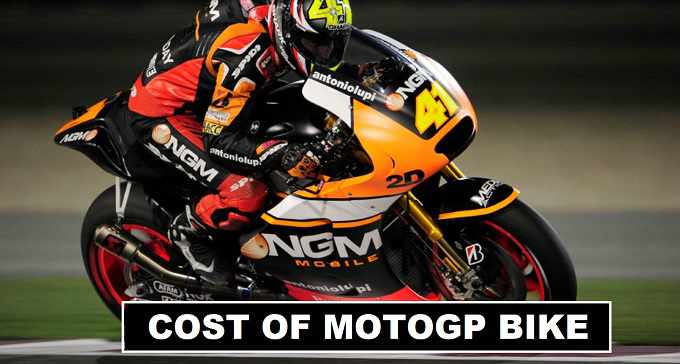 A professional rider is well aware of the dangers on the tracks of MotoGP. You should have massive budget to build MotoGP bike. A single accident can cost almost $100,000 in a race. How much money needed to build up a MotoGP bike. Few years ago a report published claimed that $2 million required to build-up a MotoGP bike. Allot changes made to the bikes upgrading system that creates effects on the cost.
If you are looking to buy simple motogp bike from the market it will cost you maximum ($40,000). In case if you are looking to get the same as Velentino Rossi or Marc Marquez rides then you need to have a good budget to get equal level bike it cost you almost ($2 million – $3.5 million). Ducati, Yamaha, Honda and Suzuki made expensive bikes for the MotoGP season.
How Much MotoGP Bike & Superbike Cost in 2018

| | | | | |
| --- | --- | --- | --- | --- |
| Category | MotoGP (1,000 cc) bikes | Moto2 (600 cc) bikes | Moto3 (250 cc) bikes | Superbike |
| Built-up Price | $3.5 million | $800,000 | $350,000 | $150,000 |
| Engine Parts Cost | $350,000 | $50,000 | $20,000 | $10,000 |
| Expensive Matrial | $15,000 | N/A | N/A | N/A |
| Tires | $10,000 | $3,500 | $3,000 | $2,500 |
| Accident Cost (Damaging) | $200,000 | $25,000 | $10,000 | $5,000 |
#1: Hand Built Bikes:


MotoGP bikes are hand built  one-of-a-kind prototypes. Each bike comes with different engine techniques and parts. Once engine upgrading finished and bike enters in racing season the engineers have no permission to open it during the season. Once the season ended they can make changes not before that. Engines of bikes design in such way so they can generate power and give peak performance during race.
#2: Rare Parts:
A very limited stock available for the MotoGP bikes which effects the cost. Some companies uses (third-party) party parts like Ohlins for their suspension for MotoGP. The tuned and custom adjusted some specific pieces for each rider. A regular customer can upgrade parts maximum for the price of ($5,000). But according to some sources when they made parts for MotoGP it costs ($100,000) which is 75% over budget then regular customer. Honda bikes costs ($220,000) for some of its parts.
#3: Expensive Materials:
Weight of the bike matters on tracks, to retain it light and strong there is allot expensive material used which include (titanium, magnesium and carbon fiber). This material used from engine to chassis to the fairings. A carbon fiber cost ($10) a pound, steel cost less then ($1).
#4: Tires:
All three types of tires you will find during the race. If its rainy weather wet tires used by bike riders & in hot weather dry ties. Mostly normal condition tires used. Well a source claimed that MotoGP bike tires cost $10,000.