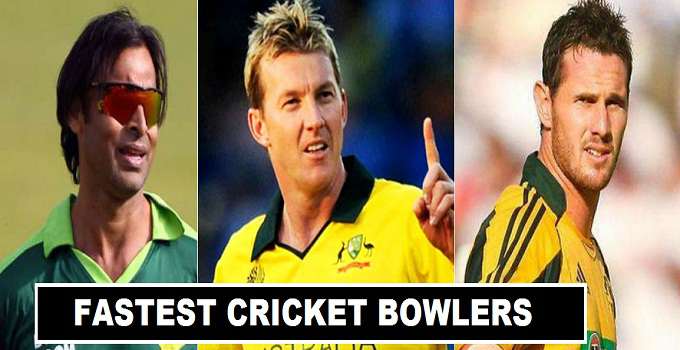 In cricket if you have pace you can get wicket at any time during the match. There are some cricket team who's bowlers speed trouble allots of batsman. Shoaib Akhter and Brett Lee are the two players who set the trend of fastest bowling and also break the world record of fastest ball in cricket. Shaun Tait and Shane Bond are the two actual excellent pace generate bowlers for their side they are not only fast but also well known with skills of swing bowling that give them little edge over other fastest bowlers in the list.
Top 10 Fastest Bowlers in Cricket History 

| | | | |
| --- | --- | --- | --- |
| Rank | Bowler | Fastest Ball Speed (km/h) | Cricket Team |
| 1 | Shoaib Akhter | 161.3 km/h | Pakistan |
| 2 | Brett Lee | 161.1 km/h | Australia |
| 3 | Shaun Tait | 161.1 km/h | Australia |
| 4 | Jeff Thompson | 160.6 km/h | Australia |
| 5 | Andy Roberts | 159.5 km/h | West Indies |
| 6 | Fidel Edwards | 157.7 km/h | West Indies |
| 7 | Mitchell Johnson | 156.8 km/h | Australia |
| 8 | Mohammad Sami | 156.4 km/h | Pakistan |
| 9 | Shane Bond | 156.4 km/h | New Zealand |
| 9 | Dale Steyn | 156.2 km/h | South Africa |
#1: Shoaib Akhter: Fastest Ball Speed (161.3 km/h):


Shoaib Akhter who is well known for his name (Rawalpindi Express) the fastest bowler in world from Pakistan. He sets the fastest ball record against England at Newlands during series in 2003. He takes long run that creates a massive impact on the opponents batsman, many times he brings crucial wickets to Pakistan favor and bring his team back in the match. It is not wrong if we say he is a match winning bowler for Pakistan.
#2: Brett Lee: Fastest Ball Speed (161.1 km/h):


Brett Lee the second person who come closer to break the record of fastest ball of Shoaib Akther in 2005 at Napier against New Zealand. But with just (2 figures) difference he becomes the second fastest and Australia first quickest bowler. But he holds the record of fastest ball in the Icc cricket world cup in 2003, after doing a ball of 160km/h speed. He is a deadly bowler in the first ten overs of ODI cricket match and he proves many times while taking opening batsman wickets.
#3: Shaun Tait: Fastest Ball Speed (161.1 km/h):

Shaun Tait equals the fastest bowling record with Brett Lee, In 2010, at Lords against England, Tait set the new record ball during the match of 161.1 km/h. He just few figures behind Shoaib Akhter to break his record of fastest ball. But unfortunately he did not seen in much number of international cricket matches due to his injuries (shoulder, elbow, knee and foot ailments). But his bowling efforts for Australia during the matches always bring good results for them.
#4: Jeff Thomson: Fastest Ball Speed (160.6 km/h):


Another Australian bowler who joined the fastest ball records, he bowled at the speed of (160.6km/h) in 1976 at WACA Ground. His slight bowling action generate a excellent pace, which almost terrified top batsmen of 70's era.
#5: Fidel Edwards: Fastest Ball Speed (157.7km/h):


The West Indies fast bowler (Fidel Edwards) created impact on the fastest ball record, after bowling with the speed of (157.7km/h) at Wanderers against South Africa in 2003. He took 165 wickets for West Indies in test cricket after playing (55 test matches). His pace of bowling always create trouble for any batsman in the world.