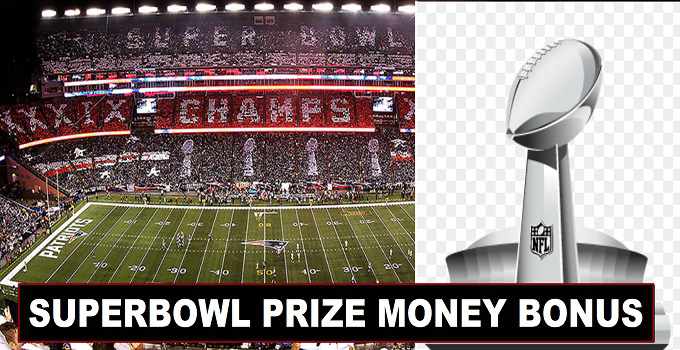 The biggest domestic sports event held in America is (Superbowl). But do the teams who reached the final and playoffs of the tournament received any prize money. How much a winning a team earn and what pool money adjusted for the player. The superbowl winners and losers both team players received the bonus payout and prize money since the first edition of the tournament since 1967. The winning team each players make ($107,000) in 2015 after winning.
The team who lost the superbowl final each player of the team get paid ($53,000) each in 2015. Well after a successful event in 2016 and 2017 the bonus payout money is increased for the players. There is edition of 15% extra prize money for the players who will play the final of 2018 . Which means the winners share and losing team earnings increased as compared to previous year winners prize money.
Superbowl 2018 Prize Money (Winners Share)

| | |
| --- | --- |
| Category | Players Pool Money |
| Winners Share | $200,000 |
| Losers Share | $80,000 |
If rumors about the increment are true then the winning team players of superbowl 2018 will received ($200,000) each roster. Losing team players rosters will received ($80,000) in the final of superbowl from the bonus payout. Super Bowl LII will played on (4th February 2018) at (U.S. Bank Stadium, Minneapolis, Minnesota). Where money come from in Superbowl, advertisement companies pay big money to get their ads during the halftime.
Prize Money History in Superbowl:
After winning the first edition of NFL Superbowl in 1967 by team of (Green Bay Packer) each roster earn ($15,000) and losing team players earned ($7,500). After Superbowl competition of (1977) the prize money increased for the players the winners of the 1997 match earn ($18,000) and $9000 paid to the losing team.