Virat Kohli is one of the best professional batsman in the world. If we say he is currently the greatest batsman it might not be wrong in a very short period of time. After making debut in cricket he sets most centuries records. Kohli is earning huge salary from (IPL and BCCI Central contract). There are number of endorsement deals who signed him to endorse his products which increase his income value.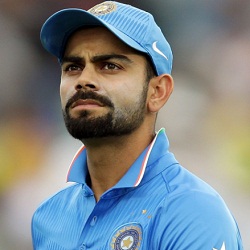 Virat Kohli Net Worth: $85 Million
Endorsement Earnings & Salary: $21 Million (2017)
He is most successful opening and one down batsman for team India. Many times when he stood up and chase the biggest total. He leads his side to the final of the Champions Trophy. India lost the final from Pakistan.
In Final team India batting order flopped top 5 batsman out in just first 15 overs. He achieved the landmark of India's great captain record with 7 wins in a row in all formats. Kohli is the most marketable athlete in Asia and India. He is getting offer from different brands from worldwide.
He endorses brands such as (Fair & Lovely, Titan, Nestle, Oakley, Red Chief Shoes and Clear (from Unilever). In 59 test matches he scored 4,616 runs for team India which include (17/100s and 14/50s). But as ODI player no one can match his current batting form he scored (8587 runs) in just (195 matches) which include (30/100s and 44/50s).
Virat Kohli Cricket Salary & Endorsement Earnings 2018
Details
Virat Kohli cricket salary in Indian cricket team Rs 2 Crore Annual (BCCI Contract Grade A)
Virat Kohli get paid $2.5 million salary from (Royal Challengers) IPL Contract
Kohli getting paid in two ways : 3-4 days (Rs 4 crore daily), In case yearly contract (Rs 15 crore)
He signed biggest sports deal with Adidas of ($1.4 million) in 2013
With MRF Endorsement he is making (Rs 8 crore a year) .
After signing new deal  of (Rs 8 crore with PepsiCO) become most marketable athlete after Dhoni and Tendulkar
He signed endorsement deal with Audi and according to sources deal is ($1.5 million) a year.
Certainly his income increasing as his performance in cricket. He become the highest paid cricketer in IPL with salary of ($2.5 Million) from Royal Challengers Bengal. "He is not a businessman but actually becomes business for top companies worldwide".