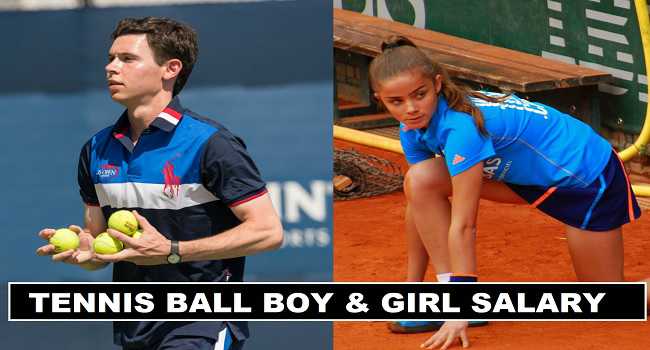 Earnings of ball boys and ball girls were bit higher with the start of new year. We bring you some details about the earnings of the ball boy and girls. Mostly they are volunteers but in some tournaments they get paid for each match appearance. Mostly boys and girls volunteer for a big tennis tournament because they will meet their favorite tennis stars. A report in 2015, published by sports magazine in which they said that a ball boy or ball girl both earn ($50-$70) per match during grand slam tournaments.
Tennis Ball Boys & Ball Girls Salaries in 2017 (Revealed)

| | | | | | |
| --- | --- | --- | --- | --- | --- |
| Category | Other Tennis Tournaments | Australian Open Fees | US Open Fees | Wimbledon Fees | French Open Fees |
| Ball Boys  | $50 | $100 | $100 | $100 | $100 |
| Ball Girls | $50 | $100 | $100 | $100 | $100 |
In the above table you will see how the money paid to them in the grand slam tournaments. According to some sources they earn same amount in each grand-slam. In a other tennis event such as (ATP World Tour Finals, Paris Masters, WTA Finals, Fed Cup and Davis Cup) maximum $50 paid to the boys and girls who provide balls during the match. They were present on the both sides of the net and also on each corner of both tennis players.
For Wimbledon ball girls or boys selected from schools or when they apply for the position. Mostly those candidates selected who got good stamina, physical ability and totally good in fitness. Where as in Australian Open and US Open positions advertise and try-outs held.