Sebastian Vettel signed one of the most expensive contract of his career in 2015 with Ferrari F1 team.  Vettel four times driver champion made history with his performances. He won four consecutive titles in a row during year 2010-2013. He become richest driver in formula one with such efforts in grand prix racing.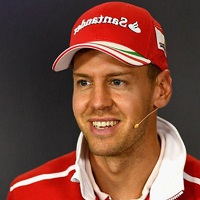 Sebastian Vettel Net Worth: $80 Million
Annual Salary: $36.6 Million (2017)
Endorsement Earnings: $500k
Sebastian Vettel career began in 2007 with F1 team (Scuderia Toro Rosso). He started 7 races in start of the season with Scuderia Toro Rosso. In 2009, Vettel signed a new deal with Red Bull Racing team and he won 5 races with his new team. He finished second on drivers table with (84 points). Vettel suprise every one with his first formula one drivers championship in 2010. He won all drivers championship titles with Red Bull Racing (2010,2011,2012,2013).
Vettel signed longest contract deal of his career worth of ($110 million). According to his new contract with Ferrari F1, Vettle get paid $36.6 million annual salary. His per race salary considered to be ($1.8 million) which made him third highest paid F1 driver in 2017. Sebastian Vettel earns $500,000 from the endorsements according (Forbes). His career points (2,410)
Sebastian Vettel Career Awards & Achievements 
Details
4 times Formula One Drivers Champion : (2010,2011,2012,2013)
Most championship points earned in a season 2013
Rookie of the Year at the annual Autosport Awards in 2008
Youngest Grand Prix pole position winner at the age 21
In 2009 awarded with (Lorenzo Bandini Trophy)
2010 becomes German Sportspersonality of the Year
In 2014 (Laureus World Sports Award for Sportsman of the Year)