Miguel Cotto made professional boxing career debut in 2001. He rise to fame in year 2003, after winning his first boxing championship title (WBC International light welterweight) from César Bazán. He fight with top boxers of his category which include (Floyd Mayweather Jr, Canelo Álvarez, Sergio Martínez and Manny Pacquiao). Here you will get details about the money he made from his boxing career.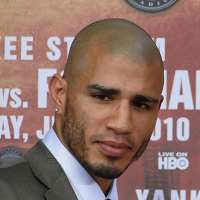 Miguel Cotto Net Worth: $45 Million
Purse per fight: $5 million (2017)
With passage of time his earnings in boxing increased. He earned biggest purse money from the fight against (Mayweather jr) in 2012. He suffered defeat in the fight but his purse money split estimated upto ($8 Million). Which made him the 5th most earning boxer of the year in 2012. In 2015, all previous records of purse split broke by (Cotto) he earned ($15 million) from fight against Canelo Álvarez.
The fight against Paccquio, Mayweather, and Alvarez bring his name among the richest boxers of the world. He earn extra amount of money from pay-per-view earnings. In 2017 his purse money earnings decreased as compared to previous year. He earned $750k after defeating Japanese boxer (Yoshihiro Kamegai). Some rumors about his next going in which, he will paid $5 million as purse split money against (Sadam Ali) on 2nd December.
Miguel Cotto Biggest Purse Payouts all Time

| | | |
| --- | --- | --- |
| Opponent | Purse Money Bonus | Year |
| Canelo Álvarez | $15 million | 2015 |
| Floyd Mayweather Jr | $10.5 million | 2012 |
| Manny Pacquiao | $12 million | 2009 |
| Antonio Margarito | $5 million | 2011 |
| Austin Trout | $1 million | 2012 |
| Yoshihiro Kamegai | $750,000 | 2017 |
| Sadam Ali | $5 million (expected) | 2017 |