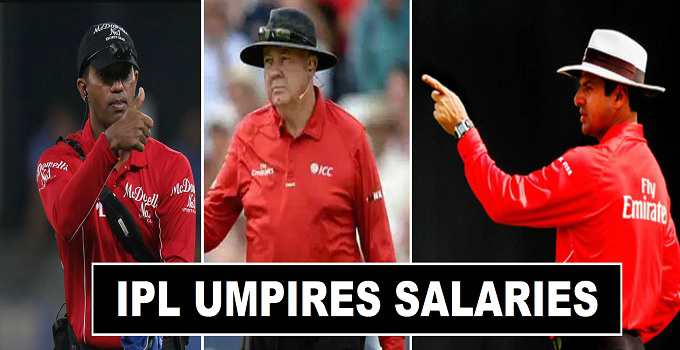 Indian Premier League becomes most successful t20 leagues in the world. There are number of big cricket officials who join the league to judge the match. How much an IPL umpire get paid per match. There is a report published that claimed that an IPL umpire salary earn ($2,700) during 2013.  Some of the officials are expecting rise in the salaries. In 2018 umpires were hopeful to get better salaries as compared to previous IPL season.
Comparing the pay-scale of domestic cricket league umpires IPL umpires get maximum earnings from match. Pakistan Super League umpires and Big Bash T20 league umpires bit lower then Indian Premier League umpires earnings.
IPL Umpires Salaries 2018 (Revealed)

| | | | | |
| --- | --- | --- | --- | --- |
| Category | Per Match Fees | Endorsement Earnings | Overall Season Earnings | Matches |
| Elite Panel Umpires | $2,700 – $3,200 | $10,000 | $60,000 | 60 |
| Entry Level Umpires | $1,000 | $3,500 | $20,000 | 60 |
Base Salary of IPL Umpires :
Umpires who are on field earn per match fees $2,700. Some sources claimed earlier last year that ipl umpire salary increased when they selected for Finals. They earn $3,200 per match of playoffs. Umpires selected on base of their merit performance. Mostly professional umpires with good reputition selected in matches such as (Kumar Dharmasena, Sundaram Ravi, Aleem Dar, Marais Erasmus and Nigel Llong).
Extra Bonus Money from Sponsorship:
Sponsorship pay a good bonus money to the umpire. First five seasons of IPL (McDowell's No.1, Kingfisher Airlines) give the sponsorship rights that we seen on the shirts of the IPL umpires salaries. Kingfisher Airlines signed five year deal of sponsorship value ($17 million).
Highest Paid IPL Umpires 2018 

| | | |
| --- | --- | --- |
| Umpires | Per Match Fees | IPL Seasons |
| Kumar Dharmasena | $2,700 | 2009-2016 |
| Sundaram Ravi | $2,700 | 2009-2017 |
| Anil Chaudhary | $2,700 | 2012-2017 |
| Aleem Dar | $2,700 | 2008-2014 |
| Nigel Llong | $2,700 | 2013-2017 |
| Marais Erasmus | $2,700 | 2009-2017 |
| Bruce Oxenford | $2,700 | 2012-2016 |
| Rod Tucker | $2,700 | 2011-2016 |
| Chris Gaffaney | $2,700 | 2015-2017 |
| Simon Fry | $2,700 | 2015 |