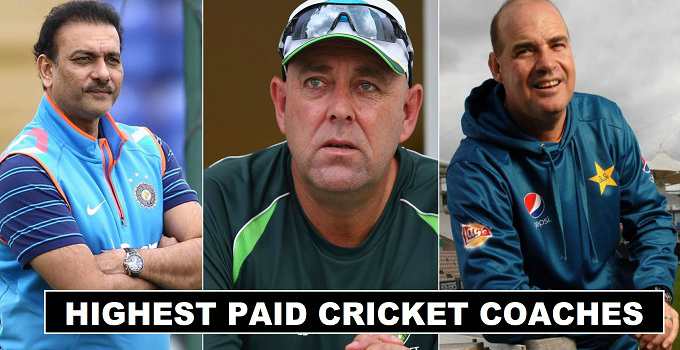 A cricket coach played important role in the performance of the team. Mostly cricket teams called foreign coaches for their team management. Recently a report published about the highest paid coaches in cricket. There is no-doubt that India improved their cricket governing bodies. Ravi Shastri is currently highest paid coaches with salary of estimated ($1.17 million). Here you will see the other cricket teams coaches how much they earn from management contracts with cricket boards.
Not all coaches paid equally, some coaches paid on base of their team performance.  Some managers salaries were higher then players such as Mickey Arthur salary is 30% more then top players in squad of Pakistan. Ravi Shahstri making more money then Australian cricket players and English cricket players. Coaches like him never gets match fees but earn big salary at the end of year.
Highest Paid Cricket Coaches 2018 (Revealed)

| | | | | |
| --- | --- | --- | --- | --- |
| Ranking | Coach | Annual Salary | Cricket Team | Current Status |
| 1 | Ravi Shahstri | $1.17 Million | India | Active |
| 2 | Darren Lehmann | $550,000 | Australia | Active |
| 3 | Trevor Bayliss | $520,000 | England | Active |
| 4 | Chandika Hathurusingha | $340,000 | Bangladesh | Active |
| 5 | Mike Hesson | $250,000 | New Zealand | Active |
| 6 | Mickey Arthur | $220,000 | Pakistan | Active |
| 7 | Nic Pothas | $140,000 | Sri Lanka | Active |
| 8 | Russell Domingo | $90,000 | South Africa | Active |
| 9 | Stuart Law | $90,000 | West Indies | Active |
| 10 | Heath Streak | $50,000 | Zimbabwe | Active |
#1: Ravi Shahstri: Salary ($1.17 Million): Coach (Indian):


Ravi Shahstri proved to be the best coaches that Indian cricket team have. After India lost final from Pakistan in Champions Trophy 2017, Anil Kumble leaves the coach job and later Indian board hired Ravi Shahstri back on coaching job. A report published by a cricket magazine in which they claimed that he get annual salary upto $1.17 million.
#2: Darren Lehmann: Salary ($550,000): Coach (Australia):


Darren Lehmann experienced coach at who managing Australia. He earned $550,000 salary from the current contract stauts with Australian cricket as coach. Australia ranked well in the ICC ODI rankings and test rankings under his coaching but did not won any major trophy after World Cup 2015. Lehmann will be focusing on their next tour to England for the Ashes Series 2017 which they don't want lose this year.
#3: Trevor Bayliss: Salary ($520,000): Coach (England):

Trevor Bayliss working hard on his team, he is looking to make England a stronger side. The team he selected for the Champions Trophy reached the semi finals unfortunately suffer defeat from Pakistan an underdog team in tournament. Under the coaching of Bayliss team England rank in (top 4) position of Odi, Test, & T20 icc rankings.
#4: Chandika Hathurusingha: Salary ($340,000): Coach (Bangladesh):


Chandika Hathurusingha brings allot of changes to Bangladesh team playing styles.  His coaching skills helps Bangladesh to recover the rankings in ICC formats of (TEST, ODI and T20). Bangladesh had a great year 2017, but did not won a major trophy so far in cricket. The made to the tournament after playing qualifiers but lost in semi finals and quarter finals.
#5: Mickey Arthur: Salary ($220,000): Coach (Pakistan):


Mickey Arthur is one of the successful coaches in cricket currently, he is head coach of Pakistan team. After losing the first match in Champions Trophy from India, he leads Pakistan in a totally different style. He won Champions Trophy 2017 as head coach of Team Pakistan. He is looking for more wins in the upcoming series In October and November.