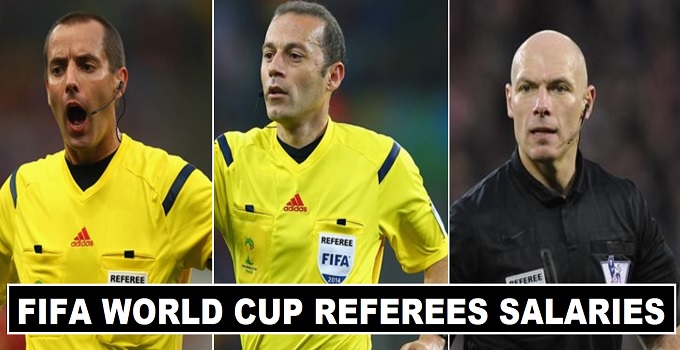 FIFA World Cup among the best professional tournaments held after 4 years time period. Match Officials for tournament selected on merit base top referees from Europe, Asia, America and Africa. How much do FIFA World Cup referee earn per match salary. Only those referees that got highest qualification level can officiate in international matches. The lines-man and match officials salaries increased when they chose for world cup matches.
FIFA World Cup 2018 Referees Salaries (Revealed)

| | | |
| --- | --- | --- |
| Category | Per Match | Full Tournament Fees |
| Match Officials | $6,500 | $70,000 |
| Lines-man | $2,500 | $30,000 |
Match Officials Salary ($6,500) World Cup 2018:
Only those officials who have experience in football selected for the world cup 2018. In two months time period the tournament ended and a match official make almost $50,000 from overall tournament in 2014. Few rumors on going that a referees make $70,000 for the full tournament. Per match salary increased from $5,000 to $6,500 which make Fifa world cup referees most earning officials in football.
Lines-Man Salary ($2,500) World Cup 2018:
As compared to the match officials lines-man do not get higher pay. If the sources correct a lines man get paid maximum $2,500 per match salary. He earns $30k as full tournament fees which is quite bigger money that lines-man earn from leagues.