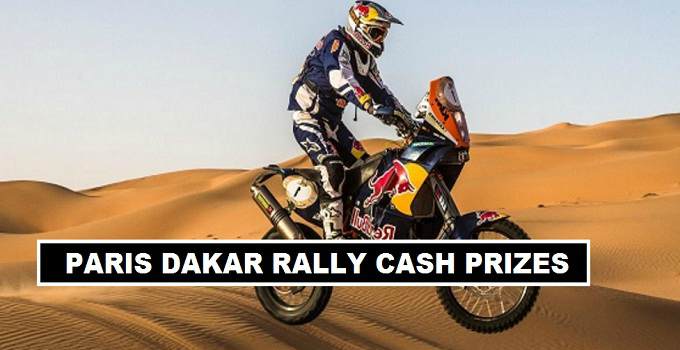 How much prize money Dakar Rally drivers and riders earn after winning a race. There is no prize money for the Paris Dakar Rally winners but yes a trophy is awarded to the winners. But top riders and drivers made big money from first to final route stage. Some sponsorship companies signed the deals with the riders and drivers and they agreed on terms on which they pay to the riders if they completed who Rally.
Paris Dakar Rally 2018 Prize Money & Cash Prizes

| | | | |
| --- | --- | --- | --- |
| Competitors | Cost of Rides | Cash Prize (Winning Stage) | Sponsor Bonus |
| Motor Bike Riders  | $70,000 – $250,000 | $20,000 | $250,000 |
| ATV Quads Riders  | $50,000 – $120,000 | $20,000 | $250,000 |
| Cars Drivers  | $300,000 | $50,000 | $500,000 |
| UTV Drivers  | $250,000 | $20,000 | $300,000 |
| Trucks Drivers  | $250,000 | $20,000 | $300,000 |
There are no such details about the prize money of Dakar Rally. Mostly riders compete in this event to get their name trophy of Pairs Dakar Rally. But riders and drivers earn for each stage winning. Motor Bike riders who rides on the difficult routes and dangerous earn ($35,000). The end of the stage if the finished at 1st place and they will get extra sponsor money .
Sponsorship Bonus:
There are major motorcycle and car brands typically offer sponsorship's to the top riders and drivers. Which means when they won they won the Dakar Rally they earned a good handsome cash from the sponsorship deal they signup. Sponsors only pay money when the riders finished at the top 3 position. Car drivers sponsor earnings are 5 times better then other (bikes,utv,trucks and quads) riders according to sources.
Extra Cost on Maintenance Bikes & Cars:
Paris Dakar Rally is most expensive quest. You have to pay thousands of dollars before the race to prepare a good bike. When it comes to car you need more money to setup the cars. According to sources a bike for Dakar Rally cost upto ($50,000 to build and prepare) and extra $25,000 paid to enter in the race and mechanics who look after upgrading and changes made to bike increase addition budget ($14,000).
To make a car comfortable for the routes of Dakar Rally. A driver need ($200,000) or $100,000 more to make it faster on the routes of dakar rally. There are allot other expenses needed which include the entry fees and mechanics salary to maintain the balanced of the car during the race. Average time of racing on the routes of dakar is (10 hours) which means a better car driver can handle the situation. Mostly professional drivers made their entry in the dakar rally.