Cristiano Ronaldo one of the greatest footballers in the world. He become the highest paid athlete in the world. The super star footballer is currently playing for the Real Madrid team. He breaks many LA Liga and Real Madrid records after joining them in 2009 leaving Manchester United football club.
Ronaldo got huge fan following on social media that tells the actual story of his popularity. Most followed footballer on social media sites such as (Facebook, Twitter, Instagram). He become the fourth footballer to get his wax statue in Madame Tussauds London after (David Beckham, Steven Gerrard, and Pele).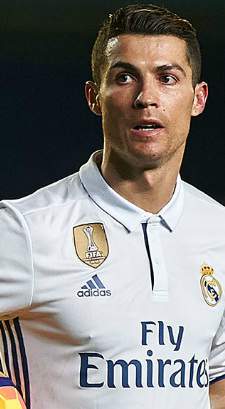 Cristiano Ronaldo Net Worth: £525 Million
Annual Salary: €32 Million (2016)
Weekly Wage: £350,000 (After Tax deduction)
Endorsement Earnings: $35 million
He become the top footballer in the world with annual salary (£35 million) a year. Only Messi and Neymar can compete his salary status on football level. But there is big increase in his fortune after signing big endorsement deals that made him the richest athlete in the world. He is totally earning ($35 million) from the sponsorship deals he signed.
Cristiano Ronaldo Endorsement Deals: Ronaldo endorses for the top companies such as (Nike, Castrol, KFC, Armani, Konami, Tag Heuer, Samsung, and Herbalife). He is currently most marketable athlete world wide due to his popularity. Sources from claimed that he get paid (£14.1 million) annually from (Nike) on base of his contract with them. From other endorsement deals he earned (£15.56 Million) a year.

Cristiano Ronaldo Career Awards & Achievements 
Details
4 Times winner of (Ballon d'Or award : 2008, 2013, 2014, 2016)
All time leading goal scorer in FIFA Club World Cup History
Real Madrid all-time top goalscorer
Most hat-tricks scored in all football competitions
4 Champions League title with clubs (Manchester United ) & (Real Madrid)
UEFA European Championship 2016 with (Portugal)
3 times winner of (UEFA Best Player in Europe Award)
4 Times winner of (World Soccer Player of the Year : 2008, 2013, 2014, 2016)
2 times winner of (Onze d'Or : 2008, 2016–17)
Four times European Golden shore winner (2007–08, 2010–11, 2013–14, 2014–15)
Premier League Golden Boot winner (2007–08)
He is three times La Liga top scorer : 2010–11, 2013–14, 2014–15
2 times become ESPY Awards Best International Athlete (2014, 2016)
Cristiano Ronaldo Salary Details:
Cristiano Ronaldo shown some great performances at Manchester United football club, he get paid (£100,000) weekly wage at the club during year 2008. But after winning champions league Manchester United and scoring number goals in the season Real Madrid signed him from the English club.
After joining Real Madrid he become most earning footballer in Europe and World with weekly wage (£183,000). He is getting guaranteed salary of (£9.5 million) a year from Real Madrid. He signed a new contract with club which is till (2021-22) where his salary increased and he will paid (£350,000) weekly wage after tax deduction and £25 million annual guaranteed salary.
Cristiano Ronaldo Career Goals & Match Appearances:
He scored 84 goals in 194 matches for Manchester United football club in all competition. But he become more powerful forward in football after joining Real Madrid in a short term he gave great competition to Lionel Messi and joins him in the race of goals. Since 2009, he played (268 matches) for Real Madrid football club and scored 285 goals and become the LA Liga top goal scorer of all time and Real Madrid football club.
After making national team debut in 2003, he gets his first major international tournament win (Euro 2016). He lead as skipper of the Portugal. He scored 79 goals in (146 appearances) for Portugal football team.