Alexis Sánchez become one of the most expensive player in the winter transfer. After signing a new deal with Manchester United. His contract extension at Arsenal expiring in summer this year.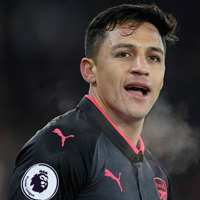 Alexis Sánchez Net Worth: £20 Million
Weekly Wage : £500,000(2018)
He scored 60 goals for Arsenal in 122 match appearances. In 2011 made debut for the Barcelona team and score 39 goals in all competition for the club. Alexis Sánchez become one of the most paid super star footballer in Arsenal squad. In 2018 there rumors of his transfer that he will join Manchester United which later become true.
In 2006, Sanchez made successful debut for Chile since that time period he represent his national side in (119) international matches and score 39 international goals. He won two Copa America Cup with Chile during years (2015, 2016). If we talk about wealthiest footballers list Sanchez joins the top super stars like (Ronaldo, Neymar, Messi, Pogba, and Aguero).
Alexis Sánchez Career Achievements & Awards 
Summary
PFA Fans' Player of the Year 2015
Copa América Golden Ball 2016
Two times Arsenal Player of the Season (2014-15, 2016-17)
FIFA Confederations Cup Silver Ball 2017
Serie A Player of the Month February 2011