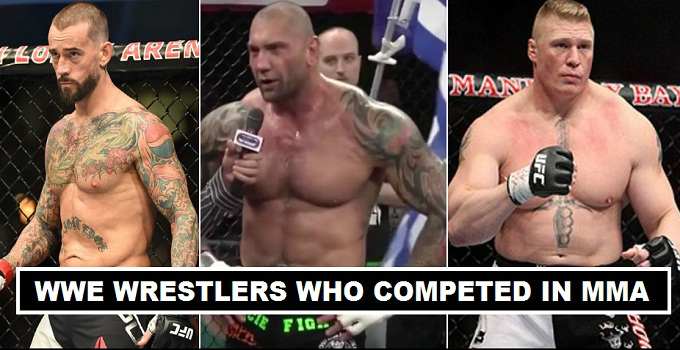 WWE Wrestlers are looking forward to make their professional careers in Mixed Martial Arts. There are some wrestlers who tried their luck in MMA but few of them get some success. Brock Lesnar and Ken Shamrock are the only two professional wrestlers who made successful debuts in Mixed martial arts career. CM Punk recently made headlines after becoming part of UFC 203 event but fail to make a winning debut.
#1: Brock Lesnar: MMA Record (5W-3L):


Lesnar is currently active member of the World Wrestling Entertainment. He become highest paid wrestler in year 2017. Brock Lesnar made a successful debut in MMA after winning his first against (Min-Soo Kim) through submission at (Dynamite!! USA) event. Later in (2008) he joined the (UFC) and in his first fight he suffer defeat from (Frank Mir). In same year, in his 3rd UFC fight he become the new (UFC Heavyweight Championship). He is the only WWE wrestler who won the (UFC Heavyweight Championship).
#2: Bobby Lashley : MMA Record (15W-2L):


Bobby Lashley who made his wrestling debut in 2004 from (Ohio Valley Wrestling) later in 2005 he become the the United States Champion in Smack Down. He not only competed in WWE but also get huge popularity in (TNA) Total Nonstop Action Wrestling. Bobby Lashley made debut in professional mixed martial arts fight from fight against (Joshua Franklin) at (MFA) event. He made Bellator debut in 2014 after winning his fight from Josh Burns. He faced 5 fighters at (Bellator) and remain undefeated.
#3: Ken Shamrock : MMA Record (28W-15L-2D):


Ken Shamrock rise to fame as a professional wrestler in 1997 from WWF much known (World Wrestling Federation) era. He shared great rivalry with wrestlers like (Bret Hart and Steve Austin). He take parts in (Independent circuit) wrestling from 2002-2013. Shamrock made debut in MMA after winning his first fight from (Masakatsu Funaki). But he get big popularity after joining the Ultimate Fighting Championship, in his first UFC match he defeated (Patrick Smith). He seen in his last MMA fight at (Bellator) where he suffered defeat from Royce Gracie.
#4: Alberto Del Rio : MMA Record (9W-5L):


Alberto Del Rio have a great record in Mixed martial arts fight, he won 9 fights while face defeat in 5 fights. He is currently active member of WWE Wrestling. Before making professional debut to WWE wrestling, Alberto Del Rio take part in the MMA events such as (Cage of Combat, MMA Xtreme, Deep & Pride). He won his first mma fight against the (Kengo Watanabe) at Deep: 2nd Impact in 2001. In 2010, he seen in his last mma fight against Yamamoto Hanshi at Cage of Combat 4 and lost the fight.
#5: Batista : MMA Record (1W-0L):

Batista is one of the best WWE wrestlers he made debut alongside Triple H, Randy Orton and Rick Flair in wrestling under a wrestling group name (Evolution). He is 4 times world heavyweight champion and 2 times WWE champion. In 2010, he leave World wrestling Entertainment. In, 2012 Batista made his debut to mixed martial arts fight and win his first fight against (Vince Lucero) at (CES MMA: Real Pain) in first round on knockout decision.
#6: CM Punk : MMA Record (0W-1L):


CM Punk create big hype in the Ultimate Fighting Championship. He trained hard for his fight against Mickey Gall. On 10 September 2016, Punk face Gall but defeated in the first round of the UFC (203) main card fight on submission move by Mickey Gall.