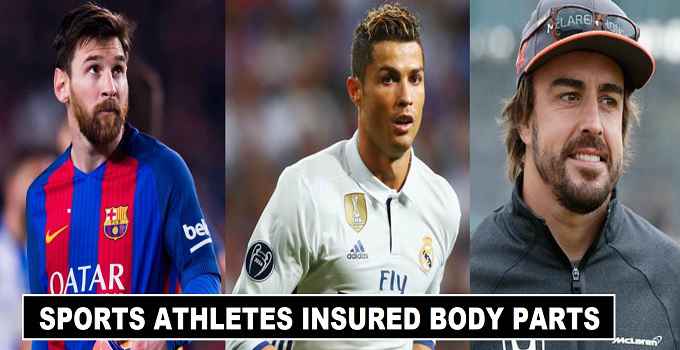 Sports athletes are well aware of the injuries. So some of the them take a step further insured their body parts. Footballers mostly insured hands and legs because players mostly runs on the pitch a single tackle change their whole career scenario. Goal keepers in football insured their hands mostly they get hand injuries. Drivers from sports such as (Formula 1) insure head and hands in case of accident
Sports Athletes Insured Body Parts for Millions

| | | | | |
| --- | --- | --- | --- | --- |
| Athletes | Insured Body Part | Policy Value | Current Status | Sports |
| Lionel Messi | Legs | €750 million | Active | Football |
| Troy Polamalu | Hairs | $1 million | Retired | NFL |
| David Beckham | Legs | $195 million | Retired | Football |
| Cristiano Ronaldo | Legs | €103 million | Active | Football |
| Mark McGwire | Ankle | N/A | Retired | Baseball |
| Manuel Neuer | Hands | $4.3 million | Active | Football |
| Merv Hughes | Moustache | $370,000 | Retired | Cricket |
| Takeru Kobayashi | Stomach | $100,000 | Unknown | Eating Competition |
| Joba Chamberlain | Right Arm | $5 million | Retired | Baseball |
| Felipe Massa | Head | $1 million | Active | Formula 1 |
| Fernando Alonso | Thumbs | $13.3 million | Active | Formula 1 |
| Iker Casillas | Hands | €15 million | Active | Football |
| Sam Bradford | Whole Body | $10 million | Active | NFL |
#1: Lionel Messi : Insured body part (Legs):


He is among the best players in the world who created history with their extra ordinary performances. According to sources he insured his legs with a big backup money. So he might be paying (€500k – 700k) at the end of year for the policy his legs were estimated worth of (€750 million) currently. Now here you know how much valuable you are in sports.
#2: David Beckham : Insured body part (Legs):


David Beckham is one of the best footballers who retired in 2013, from football. According to sources Beckham protects him up to $195 million based on if his legs deteriorate. He got the largest policy as sports person in the world.
#3: Cristiano Ronaldo : Insured body part (Legs):


Cristiano Ronaldo well known for his dribbling skills and speed on the field. So as part of his football career, he feels that he should insure his legs for (€103 million). After joining Real Madrid allot new things changed in his career one of them is policy that his club set for him to protect their biggest star.
#4: Fernando Alonso : Insured body part (Thumbs):


Fernando Alonso one of the best drivers in Formula one. He won Formula one world championship consecutive time in (2005, 2006). He took policy on his own, the body part he insured is (thumbs) for ($13.5 million) which protects him in case anything happens to them.
#5: Sam Bradford : Insured body part (Whole Body):


If we talk most expensive insurance ever in NFL, then a name that comes on top of the list (Sam Bradford). He insured his overall body for $10 million. He took this policy to protect against horrific injury during his nfl career. This policy is taken by him during career with (Oklahoma).