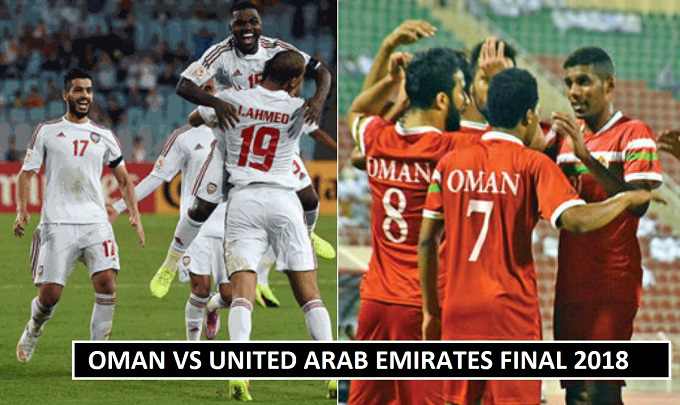 Oman reached the final Gulf cup 2018 where they will play match against United Arab Emirates. Oman won their first title of Arab Cup of nations in 2009. Now its second time they reached the final and have a chance to increase their title numbers. Their opponents United Arab Emirates won Gulf Cup twice in (2013, 2007).
Oman 5-4 UAE Penalties Highlights Final Gulf Cup 2018

Al-Mahaijri, Al-Ruzaiqi and M. Al Jabar among the best players in Oman squad. They perform outstanding well in the semi finals. Al-Mahaijri key player for Oman in the final. United Arab Emirates forwards bit stronger, Ali Mabkhout who scored couple of goals in past tournaments and is back in form hopeful to score in the final on Friday.
TV Channels Broadcasting UAE vs Oman 2018 Final:
The final match take place at Jaber International Stadium in Kuwait City. The Oman football fans enjoy the final on channel (Oman TV Sport) and the UAE football team fans watch it on (Dubai Sports & ADTV Sports). If we compare both Arab football team performances the teams. Oman suffer a defeat in group stages while UAE is undefeated.