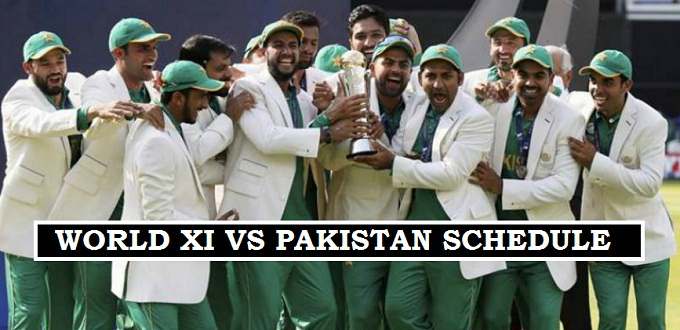 It looks like cricket is coming back to Pakistan, there are previously rumors that International sides will be interested to play series in Pakistan. After attack on Sri Lanka team in 2009, cricket teams worldwide rejected to play matches in Pakistan due to security issues. There is huge efforts made by Pakistan government and some how the Zimbabwe becomes the first side to play series Pakistan.
Pakistan becomes the new ICC Champions Trophy winners after winning the match from (India) the arch rivals in final. There is World XI side selected by the ICC which will make a tour to Pakistan to play three match T20 series. Before this Zimbabwe and Afghanistan are the only side who played matches in Pakistan. It will be a great moment for Pak cricket fans that they can see some of the top cricket player around the world in action.
Pakistan vs World XI Series Schedule 2017 (Match Details)

| | | | | |
| --- | --- | --- | --- | --- |
| Match | Date | Time | Channel | Venue |
| 1st T20  | 12 September 2017 | 19:00 (GMT +5) | PTV Sports | Gaddafi Stadium, Lahore |
| 2nd T20  | 13 September 2017 | 19:00 (GMT +5) | PTV Sports | Gaddafi Stadium, Lahore |
| 3rd T20  | 15 September 2017 | 19:00 (GMT +5) | PTV Sports | Gaddafi Stadium, Lahore |
There are not accurate details of the Series schedule so far announced. But according to sports sources, the series will be played in the month of September. If the tour goes fine, then surely more teams will look forward to play the matches in Pakistan. There are some ongoing rumors that Pakistan army will also provide the essential security plans to the players.
Once the series confirmed, the schedule will be updated and also the channels that will broadcast the matches. All three T20 matches will be played in Lahore. New Zealand players might not be part of the series due to the security issues. Stay tuned you will get all the latest updates from the series and players that will be named for World XI squad. PTV sports will bring you all action live from the stadium if the series is confirmed.